Chocolate Tasting Kit + Free Virtual Online Chocolate Tasting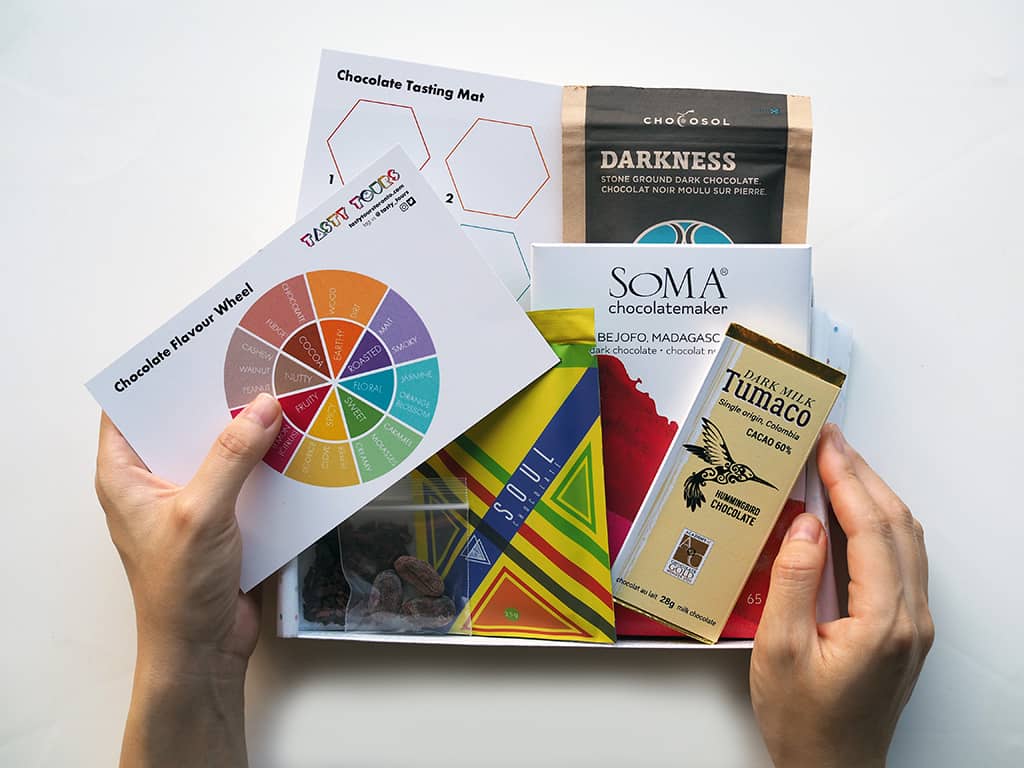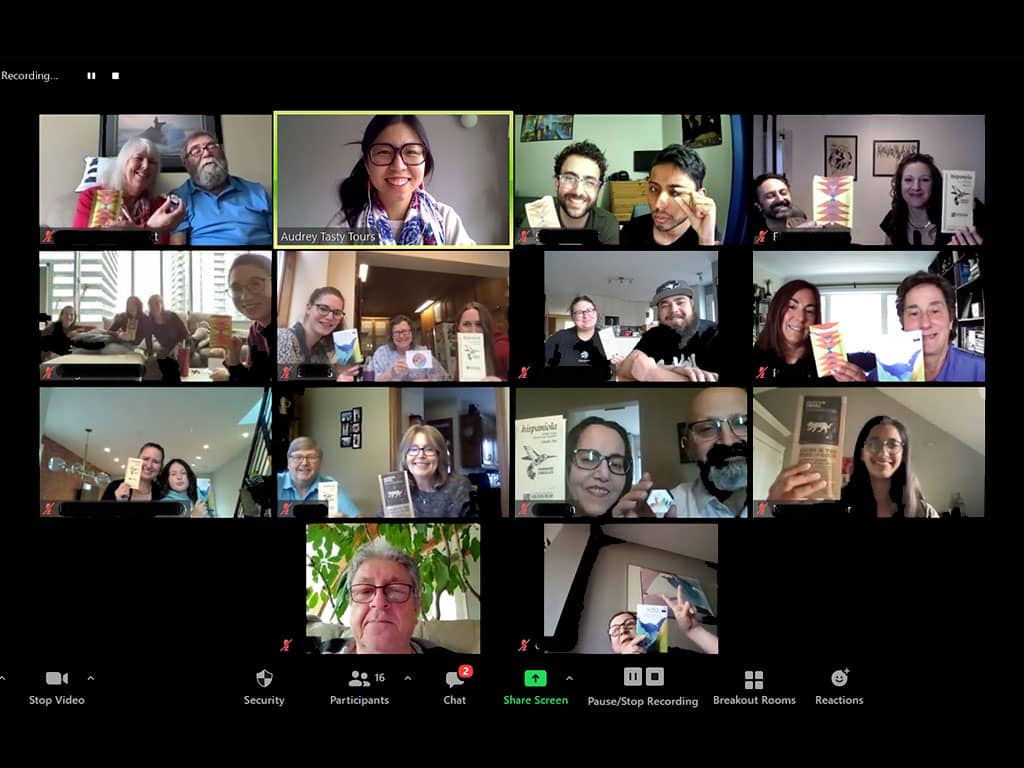 HIGHLIGHTS
Chocolate Tasting Kit
✔ 4 full-size bars of artisan chocolates made by local Canadian craft chocolate-makers (primarily dark chocolate)
✔ High quality raw cacao beans and nibs
✔ Reusable chocolate tasting mat and wheel
✔ All packaged in a lovely gift box perfect for presents!

Free Virtual Chocolate Tasting
✔ 30 minute public tasting included for free with every chocolate tasting kit
✔ Discover the difference between craft chocolate and mass-market chocolate
✔ Learn to taste chocolate professionally
✔ Sweet times for all!
GROUP SIZE
Our virtual chocolate tasting kits are designed for 2, but can comfortably accommodate as many people as you are willing to share your chocolate with!
Time
The virtual chocolate tasting takes place biweekly on Thursdays and other special dates (see calendar for all options)
PRICE
$79 per kit.
The public virtual chocolate tasting is not running in the summer and fall. If you would like to organize a private event for 7 or more people, check out our private virtual chocolate tasting.
More about the Tasting
Chocoholics unite! Treat yourself or your loved ones to Canada's best chocolate tasting kit, featuring local craft chocolates, raw cacao and a chocolate tasting mat and flavour wheel. With each kit you'll get access to a free online chocolate tasting led our by our chocolate experts and learn all about how to savour chocolate like a connoisseur, and more. After your virtual chocolate tasting, you'll have all the knowledge you need, enough chocolate left over and a reusable chocolate tasting mat and flavour wheel so that you too can host your own chocolate tasting parties over and over again.
Packed in a beautiful gift box, each chocolate tasting kit (sized for 2 to as many people as you're willing to share chocolates with) contains:
4 full-size bars of premium craft chocolates from local Canadian craft chocolatemakers (dark and milk)
high quality raw cacao beans and nibs from a premium cacao supplier – taste the origin of chocolate
reusable chocolate tasting mat and flavour wheel
free access to a 30 minute public virtual chocolate tasting with one of our expert guides
This is the ultimate gift box for chocolate lovers! Makes the perfect gift for holidays, birthdays, anniversaries, or any other event that could use just a bit more chocolate.
How It Works
Buy your chocolate tasting kit.
After you receive your kit, sign up on our event calendar for a free Public Virtual Chocolate Tasting (one-time free access) using the promo code and order number included in your order confirmation email or chocolate tasting kit.
Follow the Zoom meeting link in your event ticket email to join the 30 minute free virtual chocolate tasting at the date/time you've booked.
Just want to join the chocolate tasting without purchasing a kit? Sign up for $15 a person on our event calendar.
I took part of a virtual Tasty Tours Toronto craft chocolate tasting on a cold winter's night and this warmed me from head to toe. A delicious, worthwhile experience that gives you a sensory experience along with a dose of history and cacao knowledge.

5-star TripAdvisor review
Frequently Asked Questions
What chocolates will I eat on the tasting?
There are 3 dark chocolate bars and 1 milk chocolate bar in the regular chocolate tasting kit. The chocolate makers may change seasonally.
The chocolates in the chocolate tasting kit are vegetarian, gluten-free and nut-free (however, chocolates are not made in a nut-free kitchen and may have trace cross-contamination). All bars are vegan and dairy-free with the exception of the one milk chocolate bar in the kit, which contains dairy.
How do I participate in the virtual chocolate tasting?
First, order your chocolate tasting kit. Once you've received it, follow the instructions inside your kit to book one of our public virtual chocolate tastings. When it's time for the tasting, use a laptop or cellphone with access to Zoom to join the event.
Can I use my FareHarbor gift card to purchase a chocolate tasting kit?
Yes you can! Contact us with your FareHarbor gift card number and we will convert it into an online store gift card that you can use to purchase the chocolate tasting kit. If you want to sign up for a public virtual chocolate tasting without purchasing a kit, you can use your FareHarbor gift card directly to make your booking on the event calendar.
What is your refund policy on these kits?
As these kits contain food, unfortunately they are not eligible for returns or refunds.
What happens if I am not able to join the Zoom virtual chocolate tasting I signed up for due to unforeseen circumstances?
Rescheduling is allowed up to 48 hours before the event date/time you booked. Within 48 hours, rescheduling may be possible on a case by case basis.