Kensington Market 'Taste the World' Food Tour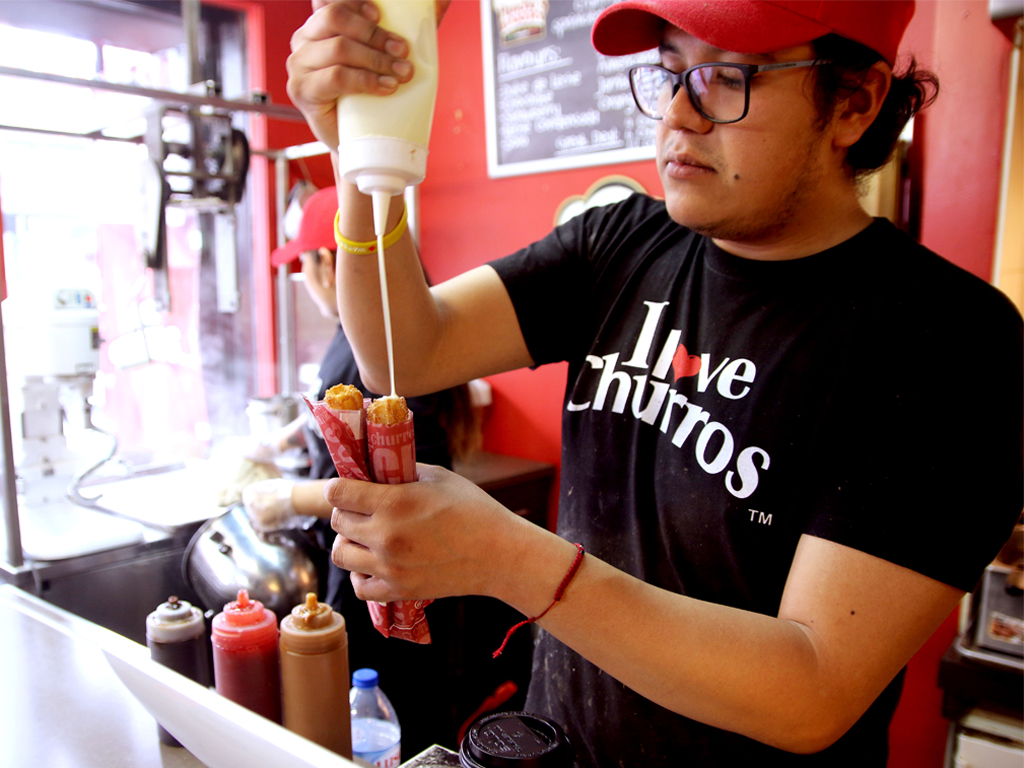 HIGHLIGHTS
✔ Introduction to a variety of multi-cultural food stores, ranging from hidden gems to hip trendsetters
✔ Samples from each location (enough for lunch)
✔ Guided tour on the history of the neighbourhood, stores and food
GROUP SIZE
Minimum group size of 2 people and a maximum of 10 people to ensure quality
TIMING
Daily, 11am – 1.30pm

PRICING
Website Special (best price guarantee)*
$69 per person
Free for kids under 7!
*Book on our website to access the Website Special ticket option, as well as receive our free neighbourhood e-guide.
More about the tour
Tasty Tours has been hosting food tours in the historic Kensington Market for over 10 years. Like its immigrant heritage, Kensington Market is full of survivors who have braved countless changes in the neighborhood, including the most recent business-decimating pandemic. Find out what makes Kensington so special, and let's support them together! All within one neighbourhood, we will travel:
1. Around the world, locally – we'll sample a variety of ethnic eats in the multi-cultural enclave of Kensington Market. In between bites, feast your eyes on the mom-and-pop businesses, brightly coloured graffiti murals and gourmet food shops that lure locals and visitors alike. Come with an appetite, as you'll have enough samples for lunch!
2. Through time – we'll trace the history of the market from its origins as a Jewish market to hip neighbourhood to the recent coronavirus challenges and beyond, weaved through the stories of the cafes, stores, and bakeries we visit.
3. Through perspectives – we've got the insider edge, from special foods made just for our group, to secret photo spots in the market. After our day together, you will become an insider too!
(All participants will receive a complimentary neighbourhood e-guide with their ticket.)
Great experience! It was a wonderful way to explore a neighborhood that we wouldn't have had a clue how to navigate. We learned much of the culture while sampling great international cuisine.

5-star TripAdvisor review
Frequently Asked Questions
What stores will I visit on this tour? What will I eat on the tour?
We'd really rather surprise you, it takes too much of the fun out of the tour to tell you everything you're eating. But if you insist, contact us. (stores subject to change at our discretion)
Can you accommodate my dietary restictions?
The tour can be made vegetarian, vegan and gluten-free. Nut-free samples are available at all locations but may contain trace amounts of nuts. Other restrictions may be accommodated on a case by case basis. Please mention any dietary restrictions in the 'Dietary restrictions' field when booking a tour.
Where does the tour begin and end?
It begins and ends in the heart of Kensington Market. The start and end stops are a few minutes walk from each other. You will receive the address of the starting point once you've signed up for the tour.
How do I get to Kensington? Is there parking?
Are there any washrooms?
There are washrooms at multiple locations throughout the tour, including the start and end point. Your guide can direct you to the best option.
Will my child under 7 get to enjoy all the food on the tour too?
Kids under 7 are not given individual samples on the tour. If you would like to receive additional samples for children, you would need to book them as an adult with General Admission. If you choose not to purchase a ticket for them, you are more than welcome to share your own samples with your little ones.
What is your cancellation policy?
We do not offer cancellations, as your spot has been reserved for you and food samples ordered ahead of time. However, emergencies do happen, and we permit rescheduling up to 24 hours before the tour due to illness. If you need to reschedule, please contact us as soon as you can!
How much walking is there on the tour?
There is only a 2 – 5 minute walk between stops with only around 1 kilometer (less than a mile) of walking total over the whole tour. The end point is a just next door to the starting location.
More about Kensington Market and the tour

Tasty Tours was one of the first to offer food tours of the Kensington Market area, and we've been running tours in this neighbourhood for over 10 years now. Kensington Market and it's neighbouring Chinatown was a natural choice for us to choose for a food tour, as it truly reflects the spirit of Toronto as one of the most multicultural cities in the world. Chinese, Mexican, Canadian…you name it, you can find it here. Kensington Market is an interesting area to visit because it has managed to retain its immigrant, working-class culture in the face of rampant gentrification. As you stroll down the streets of Kensington, you will notice that unlike most other neighbourhoods in Toronto, there is a surprising lack of large corporations in the neighbourhood.
That's because Kensington Market residents fight to keep the big box stores out, allowing small, locally-owned businesses to continue flourishing in this area. This is why the neighbourhood has such special character and soul.
Kensington Market was designated a National Historic Site of Canada in 2006, and is widely considered to be one of the most photographed spots in Toronto, for good reason. Kensington Market is a colourful neighbourhood made up of small eateries, boutiques, produce shops and other local stores lining pedestrian-friendly narrow streets, with many buildings decorated with eminently photogenic graffiti. People who are new to the neighbourhood are sometimes a little confused when they first arrive, expecting a more traditional market like St Lawrence Market selling mostly fresh produce. The name Kensington Market is actually a throwback to its original roots as a Jewish market in the early 1900s, but it has since evolved over the years to become the neighbourhood that we now see, with a mix of ethnic eateries, produce shops, vintage stores and more.
Having visited all the stores in the neighbourhood over the years, we like to consider ourselves Kensington Market experts.

In our humble opinion, Kensington Market is THE place in Toronto to get a huge variety of authentic, affordable eats within walking distance of each other, and that is why it is one of our favourite neighbourhoods in Toronto. After countless hours of research (and a lot of eating!), we've hand-picked a variety of different stores that we feel best represent distinctive threads in the fabric that is Toronto's rich food culture, as well as a selection of stories about the neighbourhood, stores and food. All of the stores and samples were tested by countless locals and tourists, and we've tweaked the tour over time to arrive at the perfect mix of variety, amount and deliciousness for the majority of our guests.
After the tour, you'll probably want to stick around the area. Shop at some of the vintage stores in the area, listen to some of the buskers in the area, or take selfies at the many graffiti murals in the neighbourhood. Feel free to ask your guide for more suggestions during the tour, as we would love to share more about one of our favourite spots in the city!
Whether a local or a tourist, Kensington Market is a unique and must-visit Toronto neighbourhood, and we guarantee you will eat or learn something new on this tour.