Thank you for celebrating Valentine's Day with us! We will see you next year!

Valentine's Day is just around the corner! Treat that someone special to something special, and give the gift of chocolate with our Valentine's Day Virtual Chocolate Tasting, or take them out for a delectable afternoon with our Valentine's Day Food Tour and make new memories with your sweetheart this year!
My husband and I had a great experience with the Valentine's Day virtual chocolate tasting! It was our first time doing a virtual activity together and we didn't know what to expect. The lovely package was a nice surprise – everything we needed for the tasting packed with care. Audrey was warm, engaging, knowledgeable and her enthusiasm for chocolate was contagious. 5* TripAdvisor Review
VALENTINE'S DAY VIRTUAL CHOCOLATE TASTING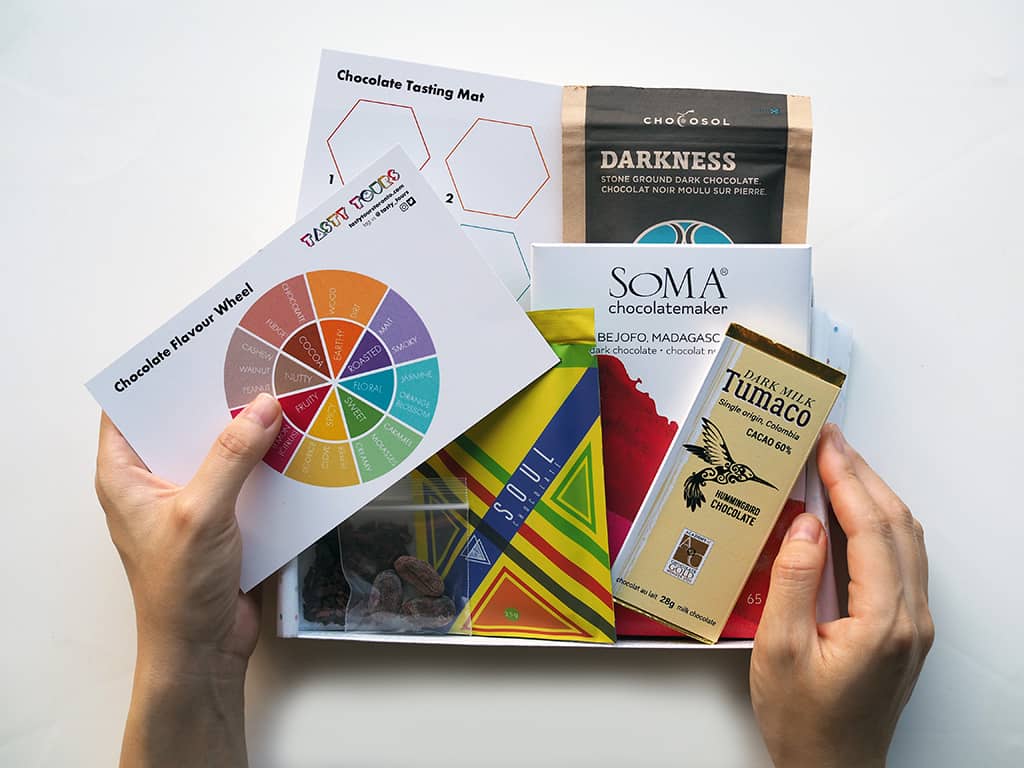 Looking for a romantic evening at home this Valentine's Day? Share the gift of chocolate and join us on an unforgettable chocolate adventure with our Valentine's Day Virtual Chocolate Tasting. Gift your sweetheart a beautiful box of chocolates packed with artisanal Canadian craft chocolates, and let our chocolate expert guide you through an exclusive chocolatey experience from the comfort of your own home. Start the night with the origins of chocolate as you taste premium single-origin raw cacao and learn how chocolate is made. Then discover a world of flavours as we sample a flight of Canadian craft chocolates, while learning how to taste chocolate like a professional.
How Does It Work
Place your order before our suggested deadline (or until all spots are sold out)
Receive your Tasty Tours chocolate tasting kit by CanadaPost, comprising

4 bars of premium craft chocolates (dark and milk)
raw cacao
chocolate tasting mat

After you place your order, sign up on our event calendar for our Valentine's Day Virtual Chocolate Tasting (an exclusive one hour tasting with added focus on the romance of chocolate) using the promo code and order number included in your order confirmation email or chocolate tasting kit.
Follow the Zoom meeting link in your event ticket email to join the 60 minute free virtual chocolate tasting at the date/time you've booked.
Just want to join the chocolate tasting without purchasing a kit? Sign up for $15 a person on our event calendar.
Dietary Restrictions
The tasting is vegetarian, gluten-free and nut-free, but is not dairy-free due to the milk powder in milk chocolates.
Location
Delivery across Canada!
Event Date
Feb 14 (Tue), 8 – 9pm
Can't make it? Gift our chocolate tasting kit on Valentine's Day and sign up for one of our regular tasting dates instead!
Price
$79 per couple/kit
Deadline
These deadlines are suggestions only
February 10th (Ontario/Quebec), February 8th (Rest of Canada)
For pickup: February 14th
Note: We cannot guarantee Canada Post shipping timeframes, so place your order ASAP to ensure delivery before February 14th.
Valentine's Day Food Tour

Does your ideal Valentine's Day involve spending the weekend out in town? Join us on our Valentine's Day food tour and you will experience the flavours of the world in the multi-cultural Kensington Market! As we explore the Market, you will taste authentic foods from all over the world in one neighbourhood while we visit some of the best shops and restaurants around, and experience all of the culture and flavours that make Kensington so unique! Bring an appetite, and we'll have enough food to share for lunch!
Features
Introduction to a variety of multi-cultural food stores
Samples from each location (enough for lunch)
Guided tour on the history of the neighbourhood, stores and food
Dietary Restrictions
The tour can be made vegetarian, vegan and gluten-free. Nut-free samples are available at all locations but may contain trace amounts of nuts. Other restrictions may be accommodated on a case by case basis. Please mention any dietary restrictions in the 'Dietary restrictions' field when booking a tour.
Location
Kensington Market
(exact location given upon booking)
Event Dates
February 11 (Sat), 11am – 1:30pm
February 12 (Sun), 11am – 1:30pm
Price
$69 per person